Birding Panama PrivateTours
Panama Birding Tours by Certified Local Bird-Guides offering All Morning low budget for groups and individuals.
Central Panama and Canal Birding Options more or less 45 minutes from Panama City. And from Gamboa town is 2 minutes into Panama best birding destinations:
Last up date:
And for the low budget private birding All Day tours to groups and individuals we visit the foothills of...
East of Central Panama
Birding Options more or less 120 minutes from Panama City...
West of Central Panama (foothills) Birding Options more or less 90 minutes from Panama City...
Also Basic and All Inclusive Birding Packages with fix or flexible Birding Tour Itineraries during four (4) consecutives days visiting the best birding spots in Panama and the Central Canal:
MULTI - DAY BIRDING PACKAGES
Send us your birding areas of interest and together we help you plan your Panama birding trip.
Last up date:
Different Birding Options and Go Back birdwatching tour rates
Last up date:
HOTSPOTS TO VISIT:
-
PANAMA RAINFOREST DISCOVERY CENTER
NEW!
-
ACHIOTE ROAD
-
EL VALLE
- CERRO AZUL
-
OFFSHORE BIRDING EXPEDITION
FOR CRUISE SHIP TRAVELLERS
Last up date:
All the tours described above fits into the description that follow. We are flexible to any special topic like dietary, walking or any that are not included here. Please tell us in advance. Thank you.

TOUR DIFFICULTY
■ Easy... to ■ Moderate... to Hard
FITNESS
Easy to moderate walking is required.
■ Easy... to ■ Moderate... to Hard
WHAT TO EXPECT
With an early morning start, expect to see 50 to 70 species by noon.
AREA DESCRIPTION
Birding is done primarily on trails and open areas. Cover of dry and second growth forest as well as the more widespread forest species of Central Panama (Panama Canal/ former Canal Zone).
WEATHER
The climate in Central Panama /Canal Zone is usually warm, with mornings in the 70s and afternoons in the 80s. Conditions at midday can be humid and very warm, with temperatures reaching into the lower 90s. Rainstorms may occur at any time of year, but are more likely during the rainy season, which runs from the summer months into early December. Generally, the weather in Central Panama is humid mild and pleasant, with our activities corresponding to the cooler parts of the day and heightened bird activity.
ACCOMMODATIONS
5 minutes from the park, it is easy to find all the stars Hotels and Inns of preference an a good array of Lodges, B&B and Hostels to choose from in Panama City and in Gamboa town. .
EATING FACILITIES
In Panama City, you will find very good restaurants (and fast food) on every street corner and we can assure that every country of the world cuisine is well represented. The real true problem is to decide what and where..!.
CLOTHING
Dress for tropical hot humid weather and be ready for rain. Light clothing is recommended: cotton shirts or t-shirts - earth colors preferable – long (preferable) and short pants, poncho, hiking shoes, hat, insect repellent and sun block.
GEAR
Binoculars, scope (optional), field guide, notebook and camera (optional ).
GUIDE BOOK RECOMMENDED
"The Birds of Panama, a field guide by George R Angehr and Robert Dean described as the "bible" for Panama and some Costa Rica birds.
Last up date:
© 2008 P.B.G., Co. All rights reserved.
74 Reviews
Panama Bird Guide
Guided birding tours

Panama Birdwatching

Central panama birds
NEW!
CHIRIQUI
HIGHLAND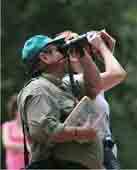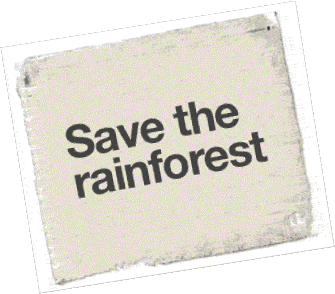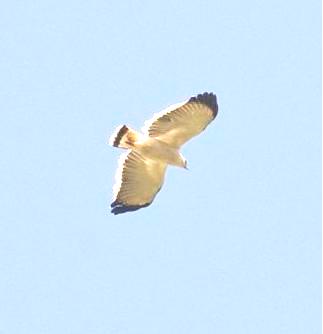 White Hawk photo by Eva Callahan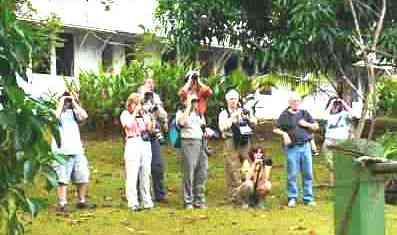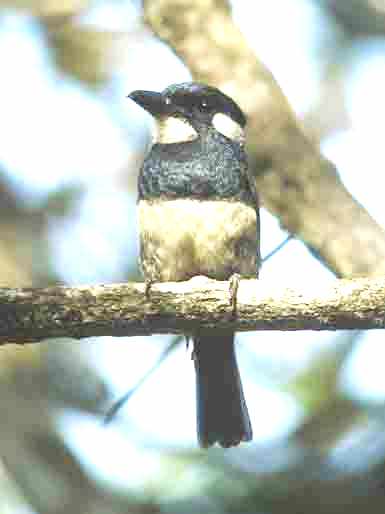 Black-breasted Puffbird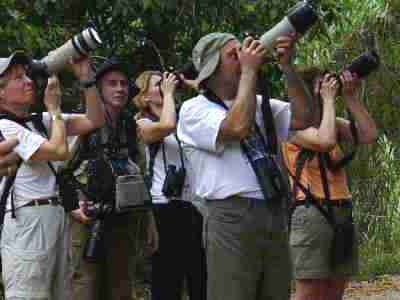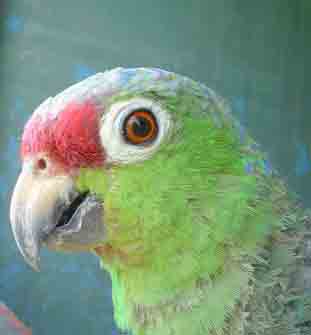 Red-lored Amazon by GHorna